Hey guys, how is your Friday going so far. I'm posting this at 2am, so you all are probably reading this a lot later in the day. Couldn't sleep, so what a way to pass the time by making a quick blog post! Anyone else get Insomnia? I used to have it really bad when I was younger. I had to take medicine for it. It's gotten a lot better over the reason, but I'm just a night owl. I like staying up late. It's not against my wishes you know? But what the
biggest
reason I get up during the night is because I have Restless Leg Syndrome.
If you know what that is, thank you. If you don't let me put it as simple as I can. Basically your leg(s) will start to feel funny, sort of tingly. You will get the most
overwhelming urge
to just kick your leg, like trying to shake the feeling off. That's basically the only way to relieve the pain. Movement. Now think about that happening for uhh I don't, at least 30 minutes. Yeah, brutal right? It's the worst thing. Some night I will literally sit and bed and kick my legs for the longest time. I have to get up and walk around the house and run a hair brush across my legs. Sometimes it doesn't work. Scientists have yet to really find a cure. RSL affects about 10% of the U.S population. Crazy right?
Anyways,
I thought I would do a
What's in my bag?
post. Something simple and quick! I don't have all the fancy shmacy things like I see in a lot of people's bags, but I wanted to do it anyways :)
↓↓↓↓↓↓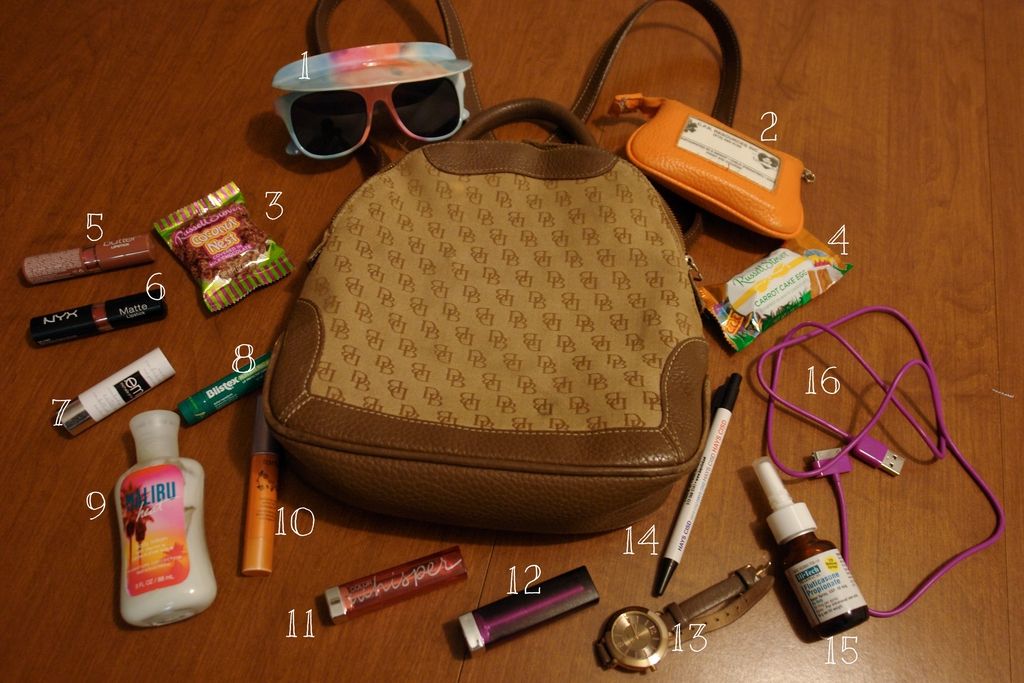 Got them numbered for ya, so easy!
As I'm sure you can tell by first glance, yes I am a lippie junkie. I literally will carry around multiple lippies just because I never know what mood I will be in and I always like to change it up. Anyone else like this? Please let me know I am not the only one!
One: If no one else thinks these are cool then wow I feel like a loner haha! I got these sunglasses/visor shade thing from Urban Outfitters last summer. They were on clearance so I know they won't be on the website or I would link them to you. As weird as they are, they help block the shade so much!
Two: My wallet. Just a simple orange wallet. I need a new one bad. I don't even know what brand it is..or where I got it. Wow, such horrible memory.
Three and Four: Gotta have my chocolate. Especially Easter candy, now that is the best! I love anything from Russell Stover, especially these two. Coconut Nest and Carrot Cake Egg.
Five:
This is the NYX
lippie
I just got in my
March Ipsy bag
. "Pops" is the name and it is a beautiful neutral shade that goes great on everyone.
Six:
This
matte
lippie in "Alabama" is amazing. It's a deep rep with a hint of violet in it. A great one if you want the "vampy" look. And it stays on a really really long time.
Seven:
I received this Michelle Phan lippie in a old Ipsy bag. "One True Kiss" is the
name
and they don't even have this shade on the website anymore but the link will take you to her other lippie selections.
Eight:
Blistex,
pretty
self explanatory. I have naturally dry lips so I like to much this on as much as I can.
Nine:
My absolute favorite
scent
from Bath & Body Works and of course it was only a seasonal item from 2 years ago. Good thing I stocked up! I like to buy a lot of small body lotion bottles and switch them out often so I go through them a lot slower, if that makes sense!
Ten:
Anything from Tarte is amazing, but I love their LipSurgence lippies!
Mine
is the "Joy" shade; a orange/red. I love that it's minty and how well my lips stay moistened with it.
Eleven:
I bought this lippie so long again. Before I fell in love with matte lipstick. I love how amazing this shade is. It's the perfect pink/peach and it is great for spring. Only downside is that is doesn't stay on very well. I have to apply it multiple times a day. It is in the
shade
"Pin Up Peach".
Twelve:
The last lipstick in my bag (for the moment). Color Sensational Lipstick from Maybelline is my #1 favorite drugstore lipstick. They have a great selection, they last forever, very opaque. They are great! I have a lot more, just not in my bag at the moment. But this
one
is in "Deepest Cherry".
Thirteen:
My (future) mother-in-law bought me this watch for Christmas. I don't wear watches that much, or any wrist jewelry for that matter, but I really love this one. It's beautiful, simple, sleek, just what I would want in a
watch
.
Fourteen: A pen. You never know when you will need one :P
Fifteen: I get bad allergies. The pain in my nose in unbearable at times. So I take Fluticasone whenever it is really bad. It's a steroid to help with allergies. You need a medical prescription for it.
Sixteen: A USB cord for my phone. I got it at walgreens, and to be honest, it's really cheap. I need a new one.
Bag: I have had this about 5 (+) years now. It's a vintage Dooney&Bourke bag. This thing is slowly falling apart. I need to fix it up. It's one of my favorite purses. I got mine off of Ebay.
Well guys I hoped you liked what was in my bag! If you want to know more detail about any of the products, feel free to ask! If you want to see swatches of any of the lippies, just ask. I would be more than happy to show you!
TGIF guys, right?? My weekend will be spent taking my dog to the dog park and around town, catching up on some Netflix shows, and trying to get all my photos edited (I'm procrastinating).
What will YOU be doing this weekend? Any exciting plans? :)
Don't be shy, drop me a line. I love love love reading (and replying) to all your comments!
Hope you all have a wonderful weekend!!
Check out my social media down below, and tell your friends about me! I love meeting new people!